Grant Funded Google Campaign – Forests Ontario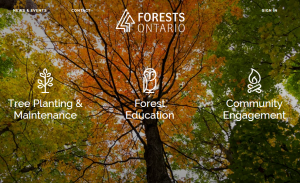 We secured a grant of US$10,000 per month in Google spend for Forests Ontario, deployed in a Search Ad Campaign.
The ads supported forest restoration advocacy; tree species selection and planting on private recreational, farm and commercial property; land management tax incentives; forestry education and industry classroom contact; the North American Envirothon championships; milling of diseased and felled urban trees to produce salvage wood for the building and furniture industries; and, promotion of Forests Ontario's giant Christmas tree and tree-planting support sale at Toronto's Christmas Market.
Consistently producing over ad 200,000 impressions and 5,000 website visits per month, our Google campaign has become the #1 source of traffic to the Forests Ontario website and means of informing Ontarians about the 50 Million Tree program.